What is Feel Good Factor and how it makes your training more effective
Evaluating training is a key component of effective training, however none of this data can answer one simple question: How did you feel?
Coaches and self-coached athletes are constantly going through a cycle of Prescribe > Execute > Evaluate. As cyclists we are lucky in that we have a plethora of data available to us to evaluate our performance: speed, heart rate, power, cadence, elevation gain etc. All of this information is fantastic and (with the right knowledge) can give great insights, especially when viewed over the long-term.
You might have broken a personal record, but how hard was it? Were you about to collapse at the end? Is that niggle in your right-knee getting worse? Sore throat? Warm-up feel harder than usual?
In order to perform the Evaluate part of the cycle effectively I need to know where an athlete is on the spectrum from fully rested to dangerously fatigued or sick. Even as a coach, working through all this data and written feedback it can be difficult to see the patterns within.
This is where Feel Good Factor (FGF) comes in.
What is Feel Good Factor?
This is a simple metric to describe how you are feeling generally (not just during your last workout) and its effect to training.
I use a very simple score from 1 to 5, where 5 is fully rested and 1 is becoming ill or over-reached: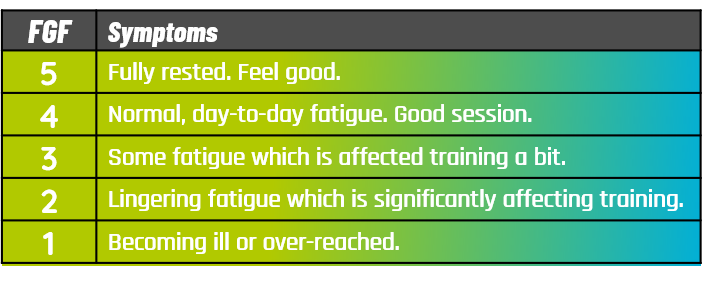 TrainingPeaks uses face icons as part of their subjective feedback to describe the same thing on a similar 5-point scale from 'Strong' to 'Weak'. This makes it quick and easy for athletes to record their general well-being straight after a workout whilst it is fresh in the mind:

Feel Good Factor allows you and your coach to scan through the last training block and see at a glance how you felt. This is vital in order to fully evaluate how you are responding to training and adjust the training prescription accordingly.
Once you get into the habit of using FGF either by using the face icons or just writing a simple 'FGF: 3' on your rider feedback you'll never go back. The ability to quickly review multiple training sessions and compare the performance with how you were feeling allows you to spot the early signs of over-training.
Only Part of the Story
FGF is important but it is not intended as a replacement for detailed, written feedback on how you felt before, during and after a training session.
Everything from the amount of sleep you had last night, your weight (once a week at most), resting heart rate, late nights, aches, pains and general wear and tear are all vital to help your coach understand how your body is responding to training and all the other stresses in your life.
Tracking your Feel Good Factor
Get in touch here to discover how to incorporate FGF into your training or if you want expert help achieving your goals.
Russell Gordon is the owner and cycling coach of InSync Cycling Coach. He helps beginner, intermediate, and elite cyclists achieve their goals and he has raced road, time trial and cyclo-cross from regional to national levels. He holds TrainingPeaks Level 1 and British Level 3 cycle coaching accreditations. Follow him at @InSyncCycling. View Russell's Bio.